Here are several brand new products that I've received/purchased but would like to send to a better home!
Cosme Decorte AQ Modeling Enhancer in 001
I Nuovi CheekRouge in Thumbelina
Kesalan Patharan Brush Pouch
L'Oréal Base Magique Transforming Smoothing Primer
L'Oréal Color Riche Made for Me Intenses Lipstick in 641 Intense Fuchsia
L'Oréal HiP Bright Shadow Duo in 114 Adventurous
L'Oréal Ultra-Volume Collagene Mascara
Lucido-L Hair Treatment Essence, Lucido-L Designing Pot Smash Fixer
and
Redken Velvet Gelatine 07
MAC Dazzleglass in Money, Honey
MAC Lustre Eye Shadow in Fineshine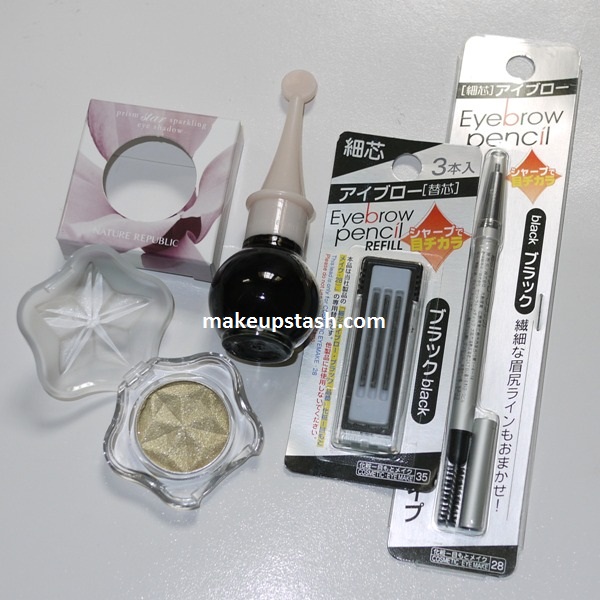 Nature Republic Prism Star Sparkling Eye Shadow in SYL303 Sparkle Gold,
Nature Republic Color Deco Nail BK003 and Daiso Black Brow Pencils
Shiseido Luminizing Satin Eye Color in VI720 Ghost
Skin79 Diamond Perfect Cover BB Concealer
Urban Decay Eyeshadow in Midnight Cowboy and Urban Decay Petite Eyeshadow Primer Potion
Za Cosmetics Plumper Lip Gloss in Glossy Red, Za Cosmetics Two-Way Foundation Refill in 22
and
Ettusais Macara Guard & Lash Separator
♥.♥.♥.♥
SPOT THE PRODUCT!
To take part in this giveaway:

1. Follow Makeup Stash! on Facebook or Twitter or Google Friend Connect.
2. Name any of the product packaging featured in my Lovelies on the Loose photo (click to enlarge).
You will be given an

extra chance

to win if you link to a specific post where I've featured the product. (Hint: The Seek function will help you!)
This is relatively easy and meant to be fun, so please try not to duplicate answers.
3. Leave your Facebook/Twitter/GFC nick for verification purposes.
4. Leave a valid email address (you do not need to reveal this publicly as you will be required to enter it in order to leave a comment).
Note:
This contest is open to Singapore residents only.
This contest will close on 6 December 2010.
Winners will be randomly drawn.
Winners will be notified via email. If there is no acknowledgement within three days, another winner will be picked.
All items will be mailed to the winners via SingPost.
GOOD LUCK!
♥.♥.♥.♥