I love stick blushes. They're easy to use (swivel, apply, retract, blend) and generally have a good cream-to-powder texture.
So when I received the preview sample of Esprique Melty Fix Cheek in PK 800 (S$32/10 g) from the revamped Esprique range from Kosé, I looked forward to testing it.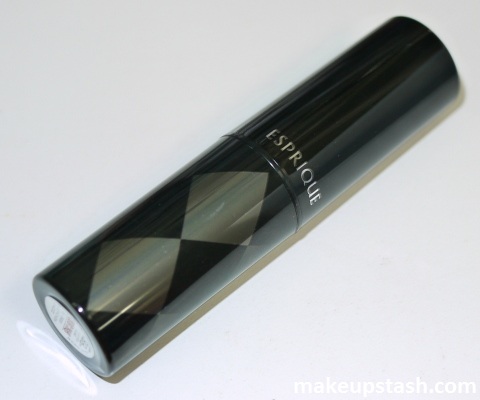 Encased in a simple but classy retractable tube, this blush stick has a nice lightness to it. Yet its swivel mechanism feels sturdy and there isn't a rattle-y cheapness to its structure, like some similarly-packaged cream blushes.
I like how the product fits snugly within the tube (it doesn't have an unseemly amount of space between its circumference and the tube interior) and doesn't list to one side, as some similar products are wont to do. A gentle twist smoothly reveals the product and it retracts just as easily without catching on the tube edges – a feature I truly appreciate, having used lipsticks and stick blushes that were victims of packaging mis-measurement.
PK 800 is a wearable peachy pink with coral hints. Infused with micro-shimmer that seems to have a slight gold dominance, it's a pretty shade that's flattering on fair and medium skin tones. It goes onto the skin evenly and blends well. I really like its smooth, non-tacky texture – it isn't sticky, neither is it overly siliconey, a true example of a cream-to-powder product.
On its own, it surprised me with its lasting power. Layered with a powder blush, your cheek colour will probably stay fresh for longer than usual. It's an excellent item to have in your beauty stash, especially if you tend to be pressed for time. Fuss-free and easy to use, this cream blush clearly embodies the One Stroke Beauty concept of the brand – elegant beauty with minimum effort. :)