Here's Aura by Swarovski Collection Mariage, a new collection from Swarovski that celebrates love and light. Launched this month, it seems ideal for summer weddings.
In it are:
Perfuming Hair Mist (S$65/30 ml)
Light Eau de Toilette Natural Spray (S$100/50 ml)
Crystal Gloss Make-Up Jewel in Shimmering Pink (S$100/1.3 g)
Light Eau de Toilette Prestige Edition (€160/50 ml – not available here)
The Mariage fragrance flaçon is like that of the original – inspired by the aura of light that emanates from faceted crystal and set with a Swarovski gem. However, its metallic sheath and bottle are tinged a subtle pink and adorned with a patterned floral lace print, as are the other two products in the collection.
Below are photos of the fragrance and lipgloss, as well as more information on them.
According to the brand, the scent is 'faceted around 3 accords, imagined like essential steps to happiness'.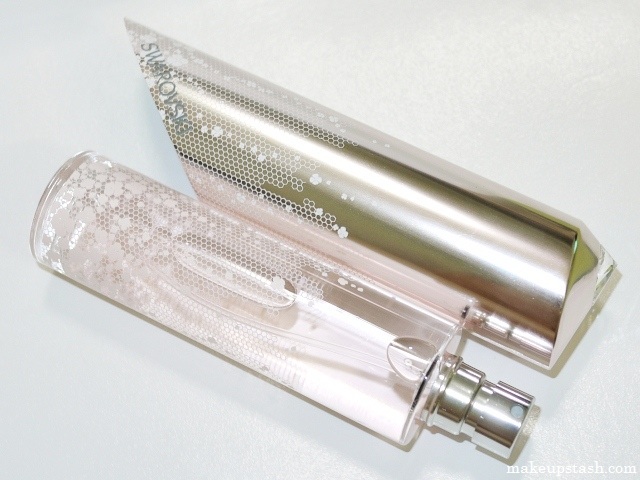 ღ The loving commitment is symbolized by lychee – signature of Aura by Swarovski fragrances – and tea leaves; these luminous notes blend perfectly in a dazzling fruity harmony ღ

ღ The promise of an eternal bond is evoked by a delicate bouquet of peony and lotus offered to bring luck; a floral and soothing fusion ღ

ღ Intense love is conveyed by a white musk accord, the ideal partner to adorn a woman with a luminous and dazzling aura ღ
Created by Firmenich perfumer Fabrice Pellegrin, the fragrance echoes the floral and sparkling freshness of the original but has a muskier note…perhaps to reflect the sensuality of a wedding night?
The lipgloss nestles in a pretty origami cupcake, also adorned with the same charming print of floating flowers.
Pulling the ribbon opens the box in a corolla to reveal the beauty gem.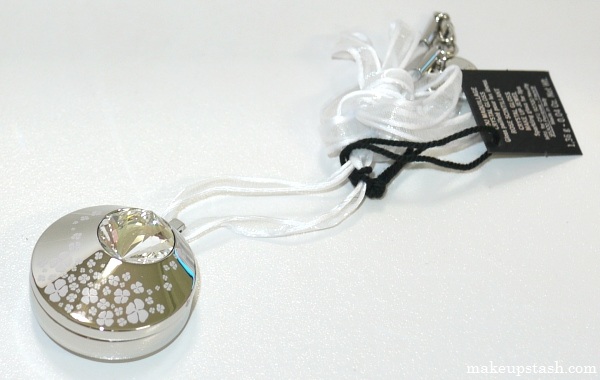 A striking 16 mm Swarovski crystal is set into the metal compact of the gloss pendant. The accessory is rather heavy, so I wonder if the delicate ribbon can hold its weight.
The case easily swivels open to reveal the lipgloss within.
The lipgloss looks like a pale coral pink but it's really a neutral tone when worn. Containing micronised Swarovski crystal powder and Crystal Shine® iridescent pearls, its shimmering effect is exceptional.
I haven't seen the hair mist but here's what the brand has to say about it:
This delicate mist swathes the hair with a sensual, luminous and floral perfumed halo. Its sparkling notes are progressively released with every movement, to exude a sensation of happiness through the day. Its fresh, airy, imperceptible texture coats hair with a shiny luster and a silky feel to the touch.
The Prestige Edition, not available in Singapore, is studded with Swarovski crystals.
Already available at Swarovski stores island-wide, this romantic-looking collection looks perfect for a bride! ♥
Image source: Swarovski