I've always had a penchant for fatty crayons and the new Make Up For Ever Aqua Shadows don't disappoint.
These pigmented pencils are an excellent way to do your makeup on the go. As with many of the brand's products, they're formulated to resist perspiration, perfect for use on a hot day out.
Aqua Shadow Waterproof Jumbo Eyeshadow Pencil dresses the eyes in pearly natural or matte smoky shades, all intense and irresistible. With its large tip and creamy texture, it can be applied in a single stroke, leaving behind exactly the right amount of product.
Its unprecedented texture quickly covers the eyelid; it stays perfectly in place and does not highlight skin creases. Its buildable coverage enables natural as well as sophisticated makeup results, and it is easily blended with the fingertips.
– Make Up For Ever
The product description says it all: These chubby pencils can ready my eye in seconds; the broad nibs swiftly depositing colour on my lids. People with single-lidded eyes like mine will appreciate how one stroke of colour lends immediate definition, the tip width of the pencils approximating the look of double eyelids.
Here are swatches of 32E (pearly off-white), 28E (pearly beige), 24E (pearly pink), 8E (matte teal green), 6E (matte navy) and OE (matte black), press samples from the brand. The pearly shades are shimmery and border on frosty when layered, while the deep mattes are superbly rich in tone.
They are creamy but blendable, although I particularly like to use them neat on the mobile lids. They're good as eyeshadow bases too and will make your powder shadows/shimmers/sparkles pop. On me, they generally stay pristine for a very long time and are practically budge-proof. They can crease just a smidgeon when I oil up on humid days.
Do note that they blend best over a slightly emollient base – they can become patchy, otherwise, for they can set somewhat quickly. Contrary to the brand's claims, the pearly ones can emphasise creases and fine lines. In addition, they can cake when layered too much, so do be prudent in the amount that you apply.
I have a fondness for the teal and black; they work beautifully together for a chic smokey eye.
Safe for the entire face, these pencils are portable and practical, great for when you need to be made up in a pinch.
In Singapore, these multi-takers retail at S$37.
_______
_______
Here are 3 picture tutorials from the brand on how to use these pencils.
I tried them on the cheeks and lips – the frost can be a bit much, thus the matte formula is more suited for the apples of the cheeks while the pearly one works better on the cheekbones. They are too dry on my lips, so a balm or lip oil is necessary for these to work as lip colours.
In the photo above, I only have Shiseido Perfect UV Protector on my face and a blend of 28E+24E on my cheeks for a subtle blush look. I also have 24E on my lips, topped with K-Palette Lip Wrap Treatment Maxi Lip in Glamorous Cherry or a The Body Shop Lip Roll-On (I can't remember which).
I have a few of the older generation fatty pencils from MUFE, the Pearly Waterproof Eye Shadow Pencils.
They are emollient and creamy, lovely as shadow bases but aren't as smudgeproof as the new ones.
MUFE is arguably the authority on waterproof makeup for performances and even sports – the brand has consistently sponsored several international synchronised swimming teams with their Aqua range of waterproof makeup, displaying their art in aquatic ballet.
Here are some photos featuring the Aqua makeup creations by the brand.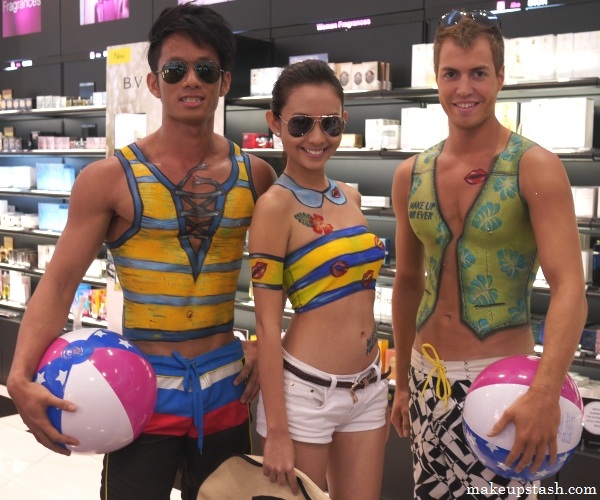 MUFE body art – love the details!
The precision and shading = awesome.
Here's a simple look using the Aqua Shadows.
Easy-peasy! The body glow is created with one of MUFE's famous Star Powders (loose pigments) mixed with their Face & Body Liquid Makeup.
I had my own MUFE tattoo.
It was done free-hand by a lovely MUFE Pro makeup artist.
I don't remember her name but know that it begins with 'H'. Arigato, H-san! :)
Image source: Make Up For Ever Singapore