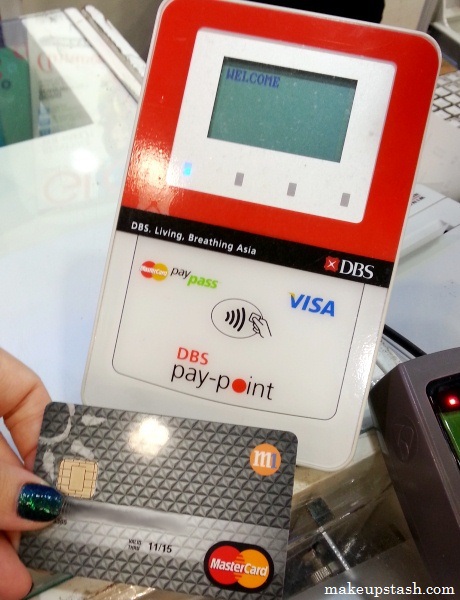 Here's Mastercard® PayPass™, a stored-value card that expedites payment.
Mastercard Singapore recently gave me the opportunity to try out the M1 Prepaid Mastercard which has the PayPass feature, so I took a happy jaunt to town, looking forward to exploring the establishments that are participating in this scheme…but returned home with mixed feelings about my experience.
The Good
Many brands and stores accept the card
When I saw the list of merchants, I was thrilled to see brands I love and locations that are convenient to me.
The card is extremely easy to use
Specifically aimed at replacing the cash/coin hassle for low-value everyday purchases, this contactless payment feature is fast and convenient. No signature is required for transactions under S$100; all I need to do is tap and go.
With Paypass, the process is simple:
Flash – The PayPass reader (a flash pay machine) will illuminate.

Tap – When that happens, I need only tap my card once. (No worries if you tap more than one time; it will only register the amount once.)

Remove – When it flashes a merry neon green and beeps, I can remove the card.
I especially enjoyed shopping at Watsons, where payment was a breeze – I paid for my products in a matter of seconds. I paid for a meal at Popeyes with ease too, though the manager serving me puzzlingly gave me a chit to sign. I had to remind her that this payment method required no signature.
I also used the card at Toys "R" Us and Big O, where the cashiers took a while to register my request (the latter had to plug in the flash pay machine!) but the payment proceeded smoothly there too.
The card can be used for phone calls and on public transport
It also functions as a phone card and an EZ-Link card.
The Not-So-Good
The establishments involved aren't entirely familiar with this new system
As exemplified in my examples above, the staff manning the cash registers don't seem to know this system very well. I had to wait for them while they conferred among themselves and figured it out.
Some places are currently not Paypass-ready
A couple of places I went to (Sasa and Sakae Sushi) could not accept the card because they did not have the PayPass reader. To their credit, they apologised sincerely, assuring me that they would check on this and hopefully be ready to accept the flash payment method soon.
The hiccups might be a deterrent, though I'd imagine the kinks would be ironed out in time to come. It's a card worth considering – it's pretty secure, given that no many how many times you scan the card, the amount will only be deducted once.
It's also fairly easy to top up, thanks to its mobile phone app (Android and iPhone).
In addition, MasterCard's zero liability protection policy covers cardholders from the costs of unauthorised transactions…as long as they do everything they can to protect themselves from fraud.
Here's what I ended up purchasing with the card. I'd shopped during the week leading up to my baby's first birthday, so she received some extra treats. :)
During the Great Singapore Sale, the first 1,500 cardholders each week to accumulate five taps – regardless of the amount spent – will receive a S$10 voucher (CapitaVoucher, FairPrice Voucher or The Choice Voucher). A rather good deal, if you make your purchases wisely. ;)
PayPass can be used at 20,000 acceptance points across Singapore – just look out for the flash payment machine. Happy shopping!
Image source: Mastercard