Not long after my London parcel arrived, another package from Europe landed in my mailbox, this time from my makeup fairy and close friend, Iris.
As a surprise, she very thoughtfully sent me the lovely Max Factor Fantasy Fire (yay, a back up – now I don't have to be prudent with my original bottle!), as well as Sleek Blush by 3 Blush Palette in Lace. Lace was hard to find in the London drugstores and she sweetly instructed her hubby to pick one up for me too, when he spotted them on the shelves.
I'm not partial to warm blushes but these beautiful summer-perfect pans remind me of (sub)tropical fruits: Crochet is a reddened orange like that of a sweet papaya, Guipure is a peach-pink the colour of a sweet grapefruit and Chantilly is a coral pink that's the shade of the skin of a ripening dragonfruit. :)
The two pans flanking Guipure are matte in finish, while the latter is shimmery. It rather baffles me why the brand would name them after different types of lace, considering one hardly sees lace in these shades…or am I missing something?!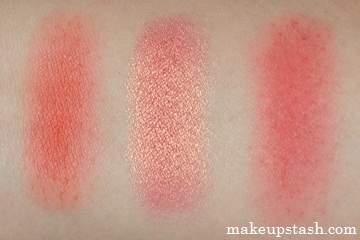 As with most Sleek blushes, these are very pigmented and easily picked up, so a light hand is necessary with them. Guipure is particularly noteworthy – I love its gorgeous mix of peach and pink laced with gold shimmer, its complexity calling to mind Nars Orgasm. It is pinker than the latter, though.
Iris also included a sample sachet of Rimmel Wake Me Up Foundation which seems like a good drugstore foundie.
Thank you, my friend, for more beauty treats from abroad! ♥