Some time back, L'Oréal Cosmetics invited me to an event celebrating the launch of the Open Eyes Chrome Intensity eyeshadow quads.
The gathering was held at Fika, a cosy halal eatery with a Swedish menu.
The rustic charm of the place was evident in its setting – the earthy colours and wooden tables evoked a somewhat pastoral feel.
The delicious food portions were generous too and everyone at my table ended up sharing everything…
…including dessert! ;)
That said, the real sweetness lay in the quads whose launch we were celebrating. These luscious palettes with their rich hues are unusually pigmented for L'Oréal shadows and I am glad to see such great colours for a low price (S$19.90 = <S$5/shade).
While we partook in the food and chatted, L'Oréal makeup artists conducted makeovers with the palettes.
Here is my table with the beautiful L'Oréal team (Barbara, Jerraine and Stella). They were professional yet warm; I really enjoyed talking to them about the brand. According to them, L'Oréal HiP (High Intensity Pigments) products will be coming our way very soon! ;)
Chantana came over to our table and (deep breath now) Tiphanie took this candid shot of Iris snapping a pic of Kas taking a photo of us! :D
Here I am, flanked by the lovely Iris and Kas.
It was a somewhat genteel event but my table – despite there being only four of us – was cracking up over our silly photos with the gorgeous cut-out butterflies that were part of the L'Oréal décor. :D
We loved our accessories so much that we took them home (with the blessings of the L'Oréal team, of course). Similar cut-outs were apparently stolen from the L'Oréal counters at Watsons, so popular they were. :P
A parting party shot. Great crowd, yes?
We were each given generous door gifts: A L'Oréal Open Eyes Chrome Intensity butterfly box with all four quads  and a little pouch with the words 'Cosmetics Addict' emblazoned on it (so cute).
Doesn't the pop-up packaging remind you of Urban Decay Alice in Wonderland Book of Shadows?
The quads look so snug and pretty ensconced inside the box.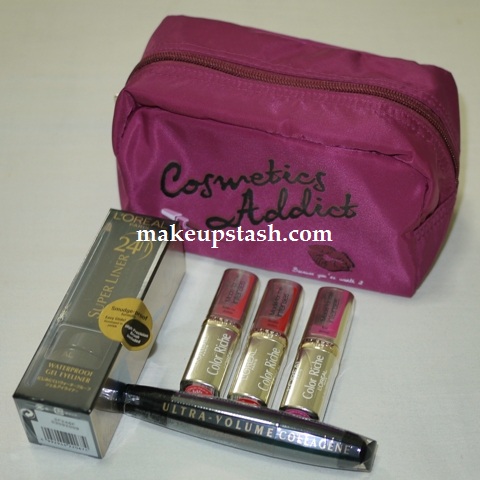 The pouch was filled with L'Oréal 24h Super Liner Waterproof Gel Eyeliner, L'Oréal Ultra-Volume Collagene mascara and three L'Oréal Color Riche lipsticks in the latest summer shades.
Special thanks to L'Oréal Singapore for a lovely afternoon!
Image source: L'Oréal Singapore