Speaking of Mary Quant, I bought the brand's Autumn/Winter 2010 mook (S$32) when I was at Kinokuniya looking out for the Jill Stuart We Love Jill! mook.
It comes with a cute tote and the box that houses the bag is packaged in striking black/clear plastic with the brand's signature daisy motif in the centre. So stylish!
The canvas bag is printed with whimsical images of Mary Quant cosmetics. It reminds me of the LeSportsac Beauty Girl print, albeit not as colourful.
Isn't the print adorable? There's even glitter on the parts coloured a pale coral.
The tote measures 43 x 31.5 x 12 cm (slightly smaller than a LeSportsac Medium Tribeca) and is a very good size for me!
The mook also comes with a delightful white daisy charm. This solid and well-made accessory has a silver chain with a lobster clasp.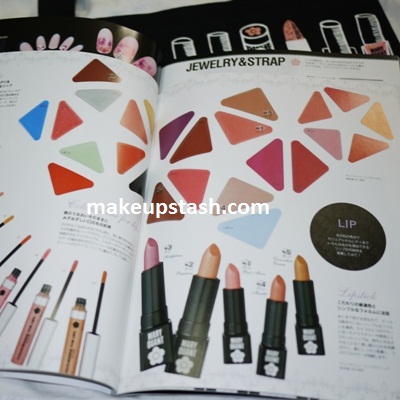 The mook features Mary Quant apparel, as well as several makeup items and beauty accessories.
My favourite section of the mook – Mary Quant makeup through the years! It's interesting that MQ is a British designer but chooses to develop/sell her cosmetics in Japan. Same with US designer Jill Stuart. Perhaps this is because the Japanese have more finesse with (and passion for) beauty products?
I've been wanting the brand's crayons for a very long time but never had the chance to obtain them. It's nice to see them here. :)
Image source: Amazon Japan